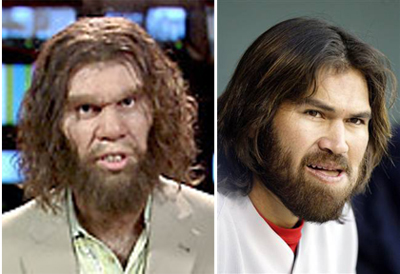 If you like what you're reading here, check out the rest of the blog:
THE BAT SHATTERS
I'll be honest, I've never been a really big fan of Johnny Damon, mostly because I still have some residual hatred from his days with the Boston Red Sox. However, anyone who actually looks/looked like the caveman from the Geico commericals, deserves pity. I'm coming around on Damon now, mostly because I have him on my fantasy baseball team and he has been raking so far this year. I was trying to think of a player for another installment of Future HOFer? and I decided to check Damon's numbers out and was surprised by what I found. Given Damon's body of work so far and taking into account his age, he has a legit shot at reaching bonafide HOF numbers by the time he retires. Check out some of his vitals (provided, as always, by
Baseball Reference
):
2,025 Gs
.290 Career Avg.
.794 Career OPS
2,319 Hs
1,408 Rs
942 RBI
193 HRs
365 SBs
Given that Damon is 35 and still has a few seasons of solid production ahead of him (if he stays healthy, of course), it is likely that Damon could approach 3,000 hits, 1,600+ Rs and 400+ SBs. Those numbers would at least put him in consideration for the HOF. The area of Damon's resume that is lacking is clearly the RBI category and also the fact that Damon has only played on two All-Star teams during his career. Also, there is the fact that Damon has spent the ladder part of his career playing on Red Sox and Yankees alongside no-doubt HOFers like Derek Jeter, Manny Ramirez, A-Rod, Curt Schilling, etc and has been 'in the shadows' so to speak.
Moving to the Yankees was the best move Damon ever made, and shaving the God-awful (no pun intended there) manginess that used to be on his head was the best decision he ever made. I still find it hard to believe that Damon spent 7 season languishing away with the Royals and Athletics, I have to imagine that his overall stats would be a bit better had those years been spent with better teams. Anyway, I'm rambling, there's my case, I think Johnny has at least an outside shot at the HOF if he continues on his current pace for the next 3-5 seasons. Here's a more palatable picture of him.