If there is anything that Yankees fans and Twins fans (at least this one anyway) can agree upon, it's that we hate the Red Sox. Yankees' fans have an edge on the hate-scale, but the rest of us baseball fans don't lack reasons either, just play that damn "Sweet Caroline" song and 95% of us will roll our eyes while the other 5% just cover their ears because Neil Diamond sucks. However, I digress... Yes, the Red Sox look like they will be contenders once again this year, let's dive in.
2009 Record:
(95-67), 2nd place AL East, 8GB the New York Yankees
Key Departures:
Boston made A LOT of moves in the off-season, I'll list them and provide some brief discussion, snide comments, etc...
LF
Jason Bay
(free-agent signed with the Mets), RP
Billy Wagner
(traded to the New York Mets), RP
Takashi Saito
(free-agent signed with the Braves), OF
Rocco Baldelli
(now a base-running coach for the Rays), OF
Brian Anderson
(non-tendered, signed with the Royals), 1B
Casey Kotchman
(traded to the Mariners)
There are certainly big names here, headlined by Jason Bay's departure, but the Red Sox seem to have countered their losses with additions and by moving some players around. For example, Ellsbury will move to left to replace Bay which is certainly an upgrade defensively, though the Sox will definitely miss Bay's bat. They didn't do much to shore up their bullpen, but the Okajima to Papelbon bridge is still intact so the will only really have to find reliability for a inning or two in there.
Key Additions:
SP
John Lackey
(free-agent signing from the Angels), CF
Mike Cameron
(free-agent signing from the Brewers), SS
Marco Scutaro
(free-agent signing from the Jays), 3B
Adrian Beltre
(free-agent signing from the Mariners)
The Sox added about $120M in payroll obligations between these 4 players and I think they will see some benefit. Lackey is a marked improvement over Brad Penny and Scutaro/Beltre are significant defensive upgrades. I still don't think the Red Sox will take 1st place in the division, but they seem to be changing their strategy a little and moving away from the power-hitting club they have been for the last several years. Their team will be very good defensively, that is for sure, with two gold-glovers in the infield and 3-time gold-glover Mike Cameron patrolling center field.
Talent En Route:
One the one hand, the talent within the farm system of the Red Sox is very young and on the other hand, that's a good thing because as a team, they are not very old so there is plenty of time to let this talent develop. According to Baseball Prospectus, there are 2 Sox prospects that are ranked 5-stars and another couple who are ranked 4-stars. I'll go in depth into the two top prospects and say a little about the other two.
Ryan Westmoreland
(OF) - drafted in the 5th round of the 2008 draft; Westmoreland was drafted out of high school, immediately had shoulder surgery and just made his pro debut last year playing for the Red Sox short-season team. He's still very young and quite raw, but BP says he could have Grady Sizemore-esque skills eventually. He has some power, hits for average and has plus speed that allowed him to steal 19/19 bags last year in short-season ball. Westmoreland is still a few years away yet, but look out for this rising star.
Casey Kelly
(RHP) - drafted in the 1st round of the 2008 draft; the interesting thing about Casey Kelly is that he is a RHP and ALSO a hitter (SS). Since drafting him, the Red Sox have spent much more time developing his arm and last year in 17 starts between Low-A and High-A, he had a 2.08 ERA in 95IP with 74Ks and 16BB. Even more impressive was his start against the Rays a couple of days ago in Spring Training where he allowed 2 runs in 3 innings, with 4Ks and 2BB. For a guy who's only pitched as high as High-A ball, that's impressive stuff. Red Sox recent addition Bill Hall was told after the game that Kelly had spent half of last season playing shortstop and Hall said, "That kid? C'mon... He was a shortstop? Impressive. He's going to be back here pretty soon."
The other two prospects that deserve mention are OFers
Josh Reddick
and
Ryan Kalish
. Both of these guys were drafted in the 2006 draft and both are still in need of a little more minor-league work before they are MLB-ready. Reddick is a power-hitting lefty-hitter who was humming along at Double-A last only to struggle mightily between Triple-A and 27 Major-League games. Reddick will be starting this season at Triple-A, but with the crowded outfield that the Red Sox have now (Drew, Cameron, Ellsbury) it may take some time, or an injury, until he gets another shot. As for Kalish, he spent most of last season at Double-A (103Gs) and hit for a respectable .271/.341/.440 line. At 6'1", 205lbs, he's quite big for an OFer, a concern that the Sox share in terms of his speed and overall range. Like Reddick, Kalish' path to the major leagues is somewhat blocked right now, but if he can perform well in Triple-A this season he could burst onto the scene in 2011.
2011 Free Agency and Salary Outlook:
With the news that the Red Sox are
close on an extension
for
Josh Beckett
, the Sox really only have a contract for
Victor Martinez
to worry about in terms of free-agency for next year. Aside from Martinez,
Mike Lowell
will be a free-agent next year, but the Sox have already been
trying to deal him
to the Rangers for most of this past off-season. Beyond that, their free-agent in 2012 will consist of Jonathan Papelbon, David Ortiz, Mike Cameron and J.D. Drew and considering the emerging outfield talent they have, it's unlikely that the Red Sox will work too hard to re-sign a couple of aging veterans. As for Ortiz, technically he is a free-agent after this season, but the club has an option for 2011 which, barring a terrible offensive year from Ortiz, I imagine they'll pick up. I don't see them re-signing the fan-favorite Ortiz after that considering he'll be 35, but if he rediscovers his bat here in the next season or two, they might consider a short-term deal.
As far as team payroll goes, the Red Sox remain in the Top 5 in all of baseball, a level they will likely have to maintain if they want to continue to compete in year-in, year-out in the AL East. Their 2009 payroll was right around $123M and this year it will balloon to around $165M, mostly on the shoulders of the off-season talent they brought in.
The Future of the Boston Red Sox: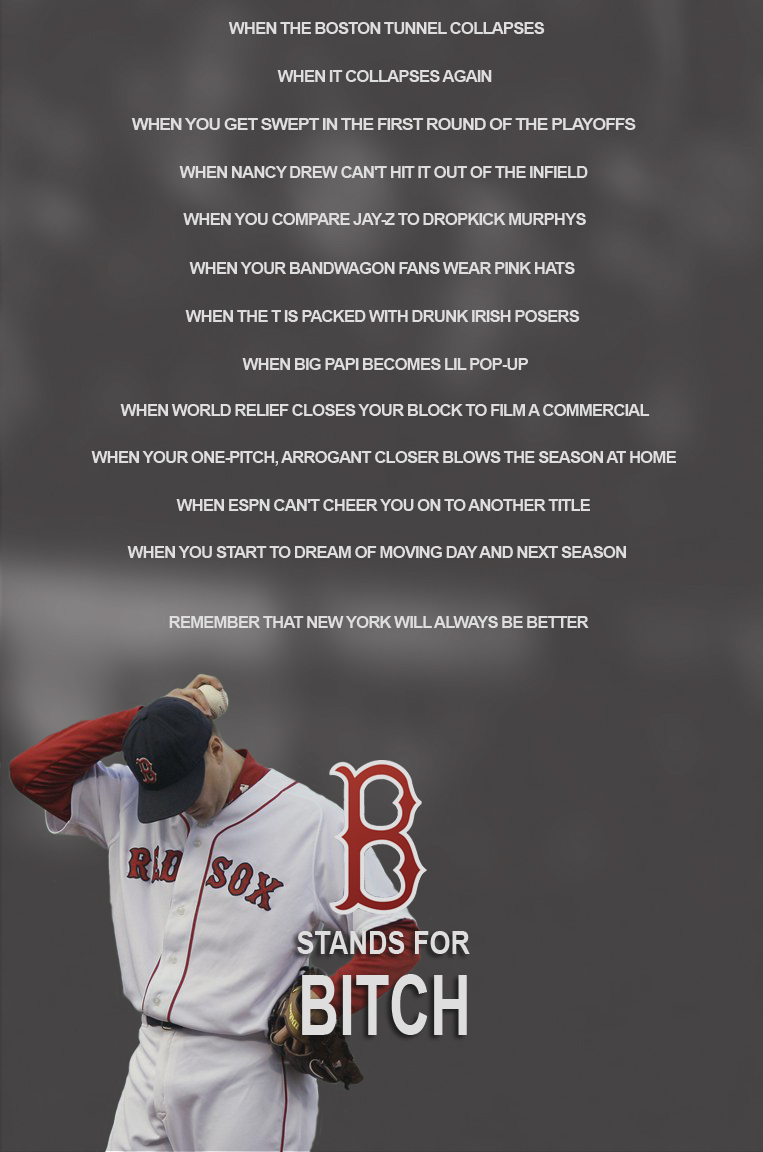 Simply put, with Theo Epstein at the helm, an ownership that is not tight on the money front, and a middle-of-the-road-and-getting-better farm system, the Red Sox look to be contenders for years to come. Epstein has proven to be a shrewd GM; yes, he's spoiled, but you can't knock the dude's ability to make the move that brings in the player they need. The biggest asset that the Red Sox have right now is their bevy of young talent in the likes of Ellsbury, Pedroia, Youkilis, Lester and Buchholz. This core of young talent, surrounded by a cast of solid veterans and backed up by some up-and-coming minor-leaguers ensures that the Red Sox will be relevant for at least another 5 years. They will certainly have the money since they've been, and will continue to, selling out the stadium for every game.
The fact that the Red Sox will compete for the next few years is not all that bad. I mean, for one, I love that the Yankees/Red Sox rivalry is competitive and interesting. For another, it's always nice to have someone/some team to hate and I love hating the Red Sox.